We all love free stuff, same was expected by a youtuber, but the reply shocked the audience.
The owner of Dublin based hotel recently made an youtuber embarrassed on social media covering a traffic of 500 million people.  The story started when an youtuber demanded for 5 day free stay in Dublin hotel.
She Mailed, "I came across your stunning hotel and would love to feature you in my YouTube videos/dedicated Instagram stories/posts to bring traffic to your hotel and recommend others to book up in return for free accommodation." My partner and I are planning to come to Dublin for an early Valentines Day weekend. She also said that she had over 87,000 YouTube subscribers and a further 76,000 Instagram followers.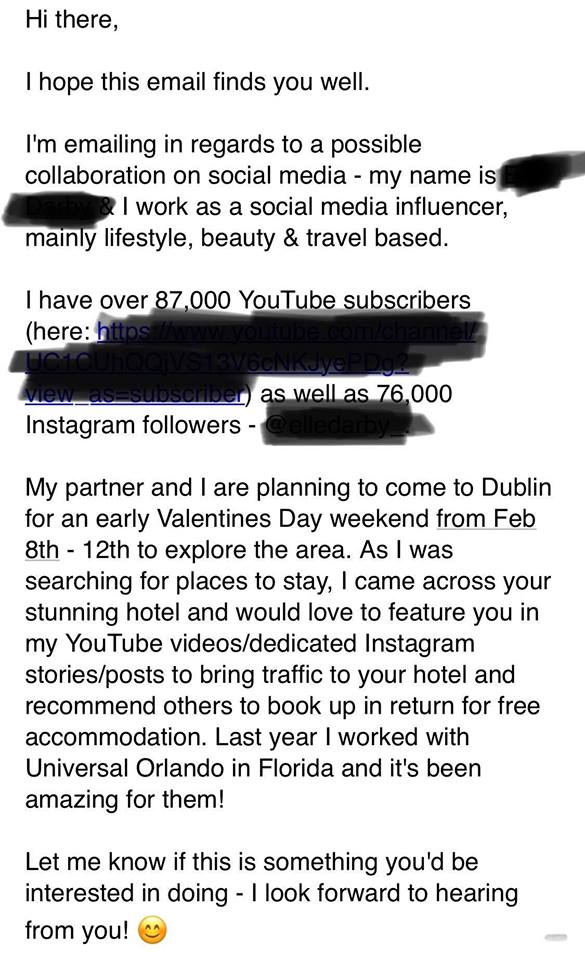 To which the owner said:
Dear Social Influencer (I know your name but apparently it's not important to use names), Thank you for your email looking for free accommodation in return for exposure. It takes a lot of balls to send an email like that, if not much self-respect and dignity.
If I let you stay here in return for a feature in your video, who is going to pay the staff who look after you? Who is going to pay the housekeepers who clean your room? The waiters who serve you breakfast? The receptionist who checks you in? Who is going to pay for the light and heat you use during your stay? The laundering of your bed sheets? The water rates? Maybe I should tell my staff they will be featured in your video in lieu of receiving payment for work carried out while you're in residence?
Lucky for us, we too have a significant social media following. We have 186k followers on our two Facebook pages, an estimated 80k on our Snapchat, 32k on Instagram and a paltry 12k on our Twitter, but Jesus Christ, I would never in a million years ask anyone for anything for free. I also blog a bit (www.paulvstenson.com), which as far as I'm aware is another way of saying "write stuff on the internet". The above stats do not make me any better than anyone else or afford me the right to not pay for something everyone else has to pay for. In future, I'd advise you to offer to pay your way like everyone else, and if the hotel in question believes your coverage will help them, maybe they'll give you a complimentary upgrade to a suite. This would show more self-respect on your part and, let's face it, it would be less embarrassing for you. Here is a little video I produced which you may learn from: http://bit.ly/2mKTDTD.
After all this Stenson was so angry that he went on to declare a ban on whole Bloggers community. He posted on Twitter-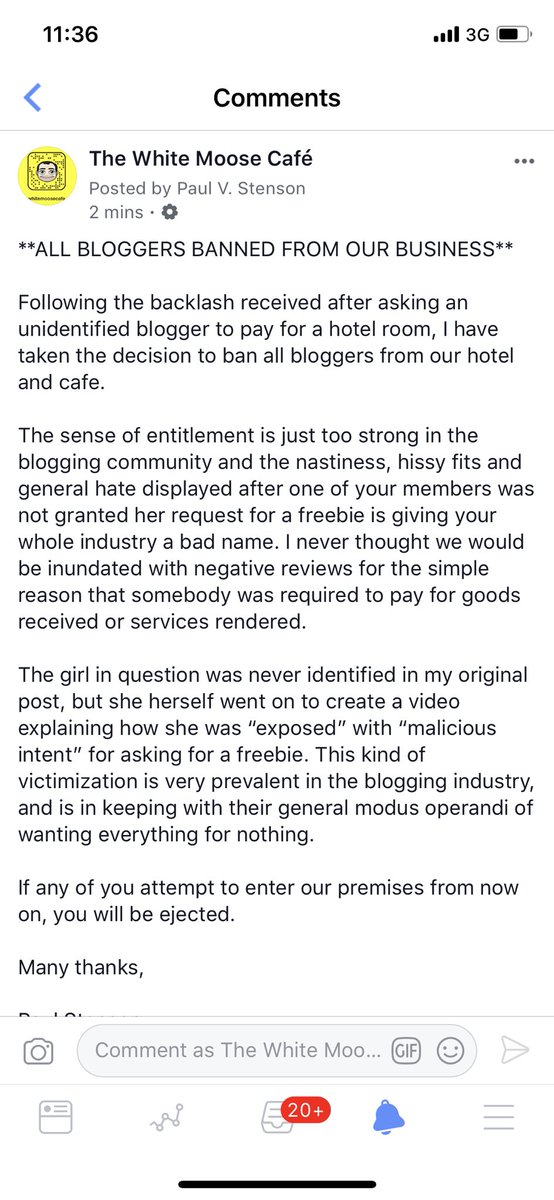 And not just this an invoice of 40 cr. was sent to the yotuber. It mentioned the publicity of 114 across 20 countries covering 500 million people.